Cash counting machine have become an integral part of many hotels, retail stores, and banks. Business people often use these ATMs for all the benefits they offer. The machine itself turned out to be very useful for various day-to-day operations.
The benefits of cash counting machine include:
Save time
Automatic banknote counter can count banknotes much faster than any human. It is fully capable of handling large amounts of money at once and takes only a few seconds to calculate it, increasing productivity. Users do not need to calculate numbers, which may be a waste of time. Just one quick count is all you need to get results. You can place the machine near your cash register to save time and a smaller machine can be placed on your desk to perform tasks faster as it takes up less space.
Accuracy
Currency counter engine provides accurate results. Everyone can make mistakes counting money by hand, but machines rarely, if ever, make such mistakes. It works to separate bills to calculate them, and even older, gross bills that may stick together are counted one by one by the machine.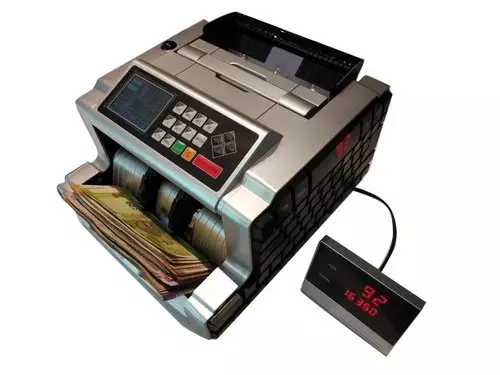 Easy work
The money counting machine is very easy to use and has automatic start and stop functions. The machine starts automatically after the bill is entered and then stops when the counting is complete. The machine's simplified functions provide an easy-to-use interface, and a number of machines currently available will feature a touch-sensitive keyboard and a graphic LCD screen.
Convenience
This calculating machine offers maximum convenience to the user. Some machines are portable and convenient, allowing cashiers to take them anywhere. Some machines also run on batteries, so you can use them even if the power goes out. You can find machines suitable for certain currencies, with some offering different modes for certain operations. It includes features like batch mode, free mode, proof mode, print mode and more. Some also have additional displays for customer convenience.
Intelligence
Modern money counters are not only stylish and elegant, but also very smart. The machine is intelligent enough to understand the operation, perform self-test, notify the user if there is a problem with the operation, and even recognize different denominations. They state the total just by counting the banknotes.
Detection of counterfeit banknotes
Many machines are capable of recognizing counterfeit notes and calculating bills. The counterfeit money detector can alert you with an audible signal when counterfeit, torn, or unusable notes are inserted into the device. This is one of the most valuable benefits of using such a machine as it can save your business from huge losses. All counterfeit banknotes harm your company's reputation as well as the economy.
Here we have discusses about the benefits of cash counting machine. Invest in a reputable brand of currency counting machine to enjoy the listed benefits and increase your business growth. Although these machines cost a little more, they give you the added benefit of cost-effectiveness and convenience in the long run.